If you're missing a tooth, you may be self-conscious about the gap in your smile. But more than that, missing a tooth can affect your ability to chew and talk, and can also impact the health of the adjacent teeth. A single dental implant is a safe, permanent way to restore your missing tooth with a prosthetic tooth that looks, feels, and behaves just like your natural tooth.
How a single implant works.
Image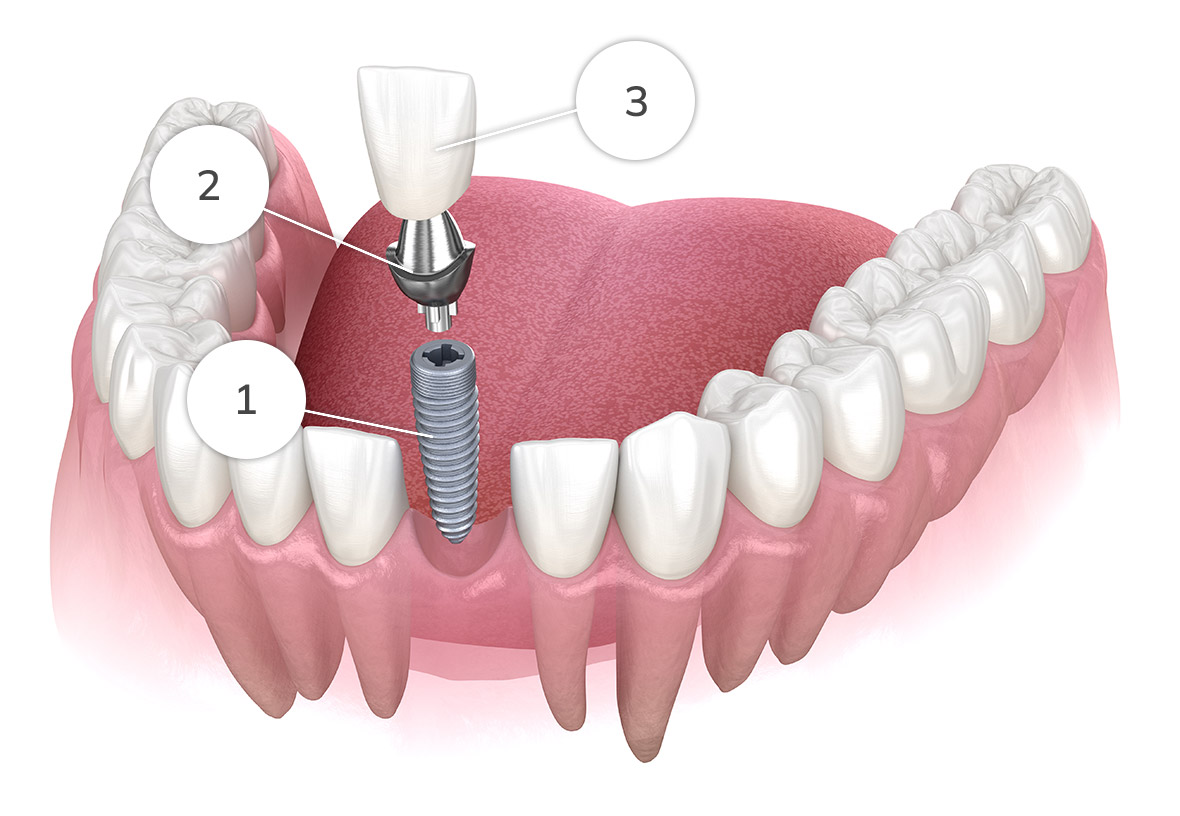 1

Titanium implant

This titanium post is a strong, non-toxic metal that acts just like a natural tooth's root in the jawbone.
2

Abutment

The abutment permanently attaches to the implant and provides support for a dental crown.
3

Crown

An artificial tooth (crown), custom-molded to match your natural teeth, is permanently fitted to the abutment.
The steps in a single implant procedure.
Your single dental implant treatment is an in-office procedure that's conducted in several stages—not all of which will apply to all people. Adequate time between stages is important—you may get teeth in a day, but the final restoration may involve several months of healing.
Consultation

This is your chance to ask any questions you might have, and Dr. Berzin's opportunity to learn more about your needs and make an informed recommendation for treatment.

Book an Appointment

Preparation

For those who need it, we'll remove the damaged or unhealthy tooth and/or perform a grafting procedure to create a more suitable implant site.

Placement of the dental implant

After using our Cone Beam CT scanner to find exactly the right spot in your jaw, we place the implant in a simple surgical procedure.

Placement of abutment

After the bone has grown and healed around the implant, we can then attach the abutment to the titanium implant post.

Placement of artificial tooth

We design and create a dental crown that's molded to match your natural teeth, and permanently attach it to the abutment. Your new implant is now complete!
The health and lifestyle benefits of your new single implant.
Restored bite force.
Given how firmly implants are anchored in your jaw bone, they restore your power to chew—just like you had with natural teeth.
More natural speech.
Implants function in a manner similar to natural teeth, allowing you to speak normally and with confidence.
It can last a lifetime.
Titanium dental implants are very strong, and with proper oral care can last many decades or more.
Prevent bone loss.
When teeth are missing, the surrounding bone gets weak and loses mass. Implants stimulate the bone to keep it strong.
It's cost-effective.
Though a bigger investment upfront, in the long term implants may cost less than other restorations that require maintenance or need to be replaced.
It's easy to care for.
Treat your implants similarly to your natural teeth when brushing and flossing. No special equipment necessary.
Dr. Berzin is an easy choice if you need single implants.
Dr. Berzin could be one of the most experienced, educated, and celebrated implant doctors in Toronto. With more than twenty years of implant experience, an always-growing list of industry accolades and awards, and an approach that puts patients at ease, he and his staff are well-respected in the field of implant dentistry. Getting implants is a big decision. With Dr. Berzin, your due diligence is rewarded.
Image