Standard dentures are certainly better than nothing. But given how easily they can slip and shift when you eat and talk, they certainly don't feel or behave anything like natural teeth. If you've ever wondered if there's a better way, there is: fixed implant dentures are a life-changing alternative. Since they're permanently anchored to four or more dental implants, they will never shift or move. So they feel like the natural teeth you miss. And you can use them like natural teeth. So your confidence and lifestyle will improve dramatically.
How a fixed implant denture works.
Image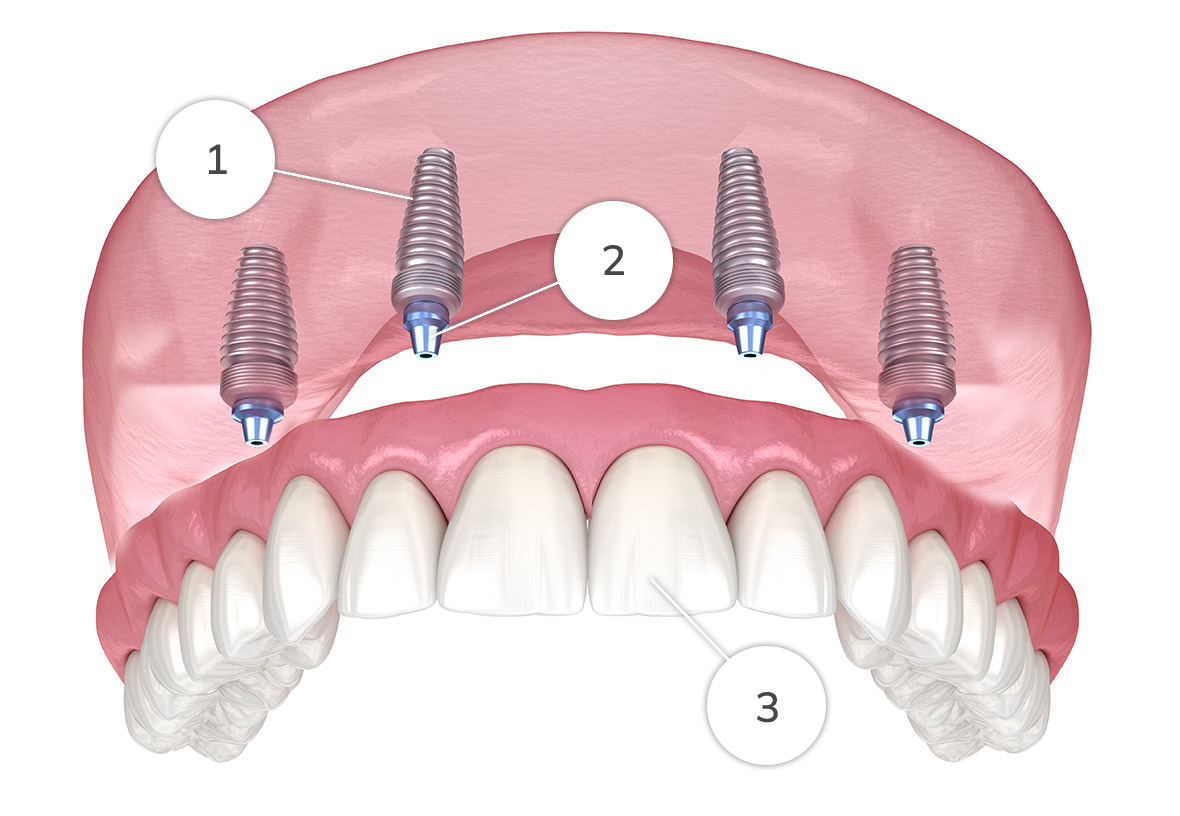 1

Titanium implant

These strong and not-toxic titanium posts—usually four or more per jaw—are implanted in spots specifically-chosen to maximize denture support.
2

Abutments

The abutments permanently attach to the implants and provide attachment points for the denture.
3

Denture

Custom-designed dentures securely attach to the abutments. The dentures are permanently attached by Dr. Berzin, and are only removable by him.
The steps in a fixed implant denture procedure.
Your fixed implant denture treatment is an in-office procedure that's conducted in several stages—not all of which will apply to all people. Adequate time between stages is important, and the final restoration may involve several months of healing.
Consultation

This is your chance to ask any questions you might have, and Dr. Berzin's opportunity to learn more about your needs and make an informed recommendation for treatment.

Book an Appointment

Preparation

For those who need it, we'll remove damaged or unhealthy teeth and/or perform a grafting procedure to create a more suitable implant site.

Placement of the dental implants

After using our Cone Beam CT scanner to find exactly the right spots in your jaw, we place the implants in a simple surgical procedure. Usually four or more per jaw.

Placement of abutments

After the bone has grown and healed around the implants, we can then attach the abutments to the titanium implant posts.

Placement of denture arch(es)

New dentures, designed to fit your mouth perfectly, are inserted and permanently attached to the abutments. Your new fixed implant dentures are now complete!
The benefits of your new fixed implant dentures.
Restored bite force.
Since your new dentures are securely attached, your power to chew will match that of natural teeth.
More natural speech.
Since the dentures won't shift or move, you'll be able to speak normally and with confidence.
Implants can last a lifetime.
Titanium dental implants are very strong, and with proper oral care can last many decades or more.
Prevent bone loss.
When teeth are missing, the surrounding bone gets weak and loses mass. Implants stimulate the bone to keep it strong.
It's easy to care for.
Treat and clean your new fixed implant dentures the same way you'd care for natural teeth, by brushing and flossing.
Dr. Berzin is an easy choice for fixed implant dentures.
Dr. Berzin could be one of the most experienced, educated, and celebrated implant doctors in Toronto. With more than twenty years of implant experience, an always-growing list of industry accolades and awards, and an approach that puts patients at ease, he and his staff are well-respected in the field of implant dentistry. Getting implants is a big decision. With Dr. Berzin, your due diligence is rewarded.
Image